Unlocking capacity
Ogi's new high-capacity infrastructure offer harnesses the power of the country's motorway and trunk road network to connect England, Wales and beyond with new dark fibre and microduct products. It's a landmark fibre project – a first of its kind for Wales – exclusively available from the only full fibre provider dedicated to Wales.
The diverse route increases capacity from England into Wales, over the Prince of Wales bridge, into Vantage CWL1 Data Centre in Newport and onward; providing capacity, diversity and resilience to carriers, hyperscalers and Internet Service Providers looking to expand across the south of the UK.
The new network brings bespoke dark fibre and microduct infrastructure services to the market initially, with a suite of lit services and data centre products to follow.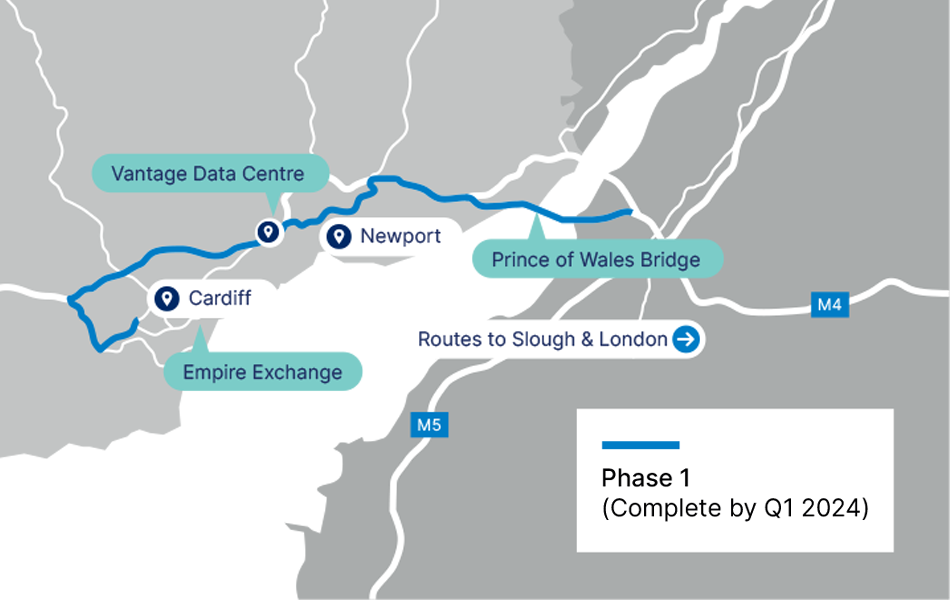 Wales is now considered one of the fastest growing digital economies outside of London
With 55,000 people actively employed within the financial services sector; £1.7 billion annual turnover of creative* sectors prioritised by Welsh Government, employing 34,900 people, the tech sector is worth £8.5 billion** to Welsh economy, with Fintech generating 44% in 2021/22.
This new wholesale opportunity is a vital catalyst for fibre capacity across the UK, at a time when the focus is shifting to Wales as an attractive location for data centres, digital innovation and tech investment.
*Film and TV, music, animation, games and publishing – Welsh Government, 2023
**Trade & Invest Wales – Welsh Government, 2021-22